200-Hour & 300-Hour Teacher Training Certifications
200-Hour: Starts Sept 2023! For yogis who want to learn more about yoga philosophy, alignment in poses, the yoga lifestyle, and how to share yoga with others!
300-Hour: In Progress.. Next one will start in Jan 2025! For 200-hour certified yogis who want to continue the journey, dive deeper into yoga, focus on a niche, and make a bigger impact. Email staff@universalpoweryoga.com for more info!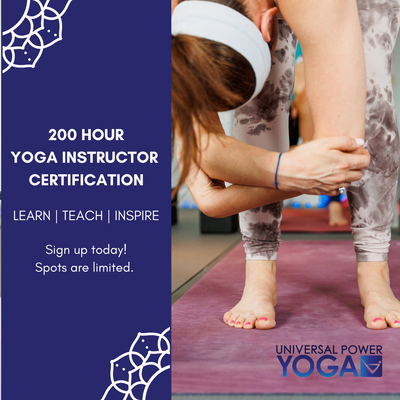 200-Hour Teacher Training (Starts SEPT 2023!)
Why take a 200-Hour Teacher Training?
If you are passionate about learning more about yoga and/or want to explore the possibility of teaching yoga, this program is for you! If you don't want to teach yoga, you can join us to learn more about yoga for your own practice and life!
FACULTY:
Jen Palmer, E-RYT-500, YACEP, Owner & Founder of UPY
Sue Bonanno, E-RYT-500, YACEP, Founder of SoulSpace Meditation
Gale Giaccobe, E-RYT-500, YACEP
Cheryl Baumhauer, E-RYT-500, YACEP
Mary Walek, CYT-500
Lisa Howard, CYT-500
Courtney Dutch, CYT-500
TOPICS:
Yoga Poses, Breathwork, Meditation, Anatomy & Physiology, History, Styles of Yoga, Philosophy, Yoga Lifestyle, Ethics, Diversity and Inclusion, Teaching Methodology, Professional Development, Business of Yoga, Personal Development, Teaching Skills
SCHEDULE:

WEEKEND DATES: Sept 16-17, Oct 14-15, Nov 4-5, Dec 2-3, Jan 6-7, Jan 20-21, Mar 2-3 Graduation!

Saturdays 12:30-7:30 PM in Norwood

Sundays 12:30-6:30 PM in Wrentham
Thursday nights 6-9 PM Sept 21-Feb 29, except the following dates Nov 23, Dec 28, Feb 22.

One Friday night session graduation weekend, Fri, Mar 1, 6-9 PM
PRICING:

Option 1: $3200 Early Bird (pay in full by 6/10/23)

Option 2: $500 deposit to hold your spot, with a payment plan $300 per month for 10 months ($3500)

Yoga changed your life. Now it is your time to take a leap of faith and join us on this incredible journey! Surround yourself with positive, uplifting people and learn the skills to live your yoga on and off the mat! Teacher trainees often say that taking teacher training with UPY has helped them learn the tools for a more grounded, peaceful, joyful life.
Email staff@universalpoweryoga.com with questions!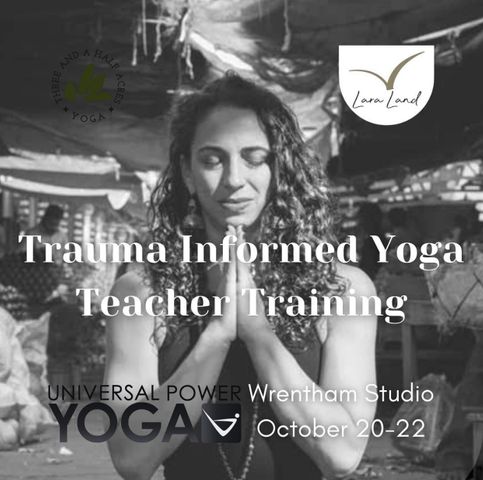 Trauma Informed Yoga Teacher Training (15 Hours)
For any 200-Hour or 500-Hour Certified Yoga Teacher, or currently enrolled in 200-Hour training!
UPY is partnering with Lara Land Yoga and Three and A Half Acres which is a non-profit dedicated to bringing trauma sensitive yoga and mindfulness to those who need it.
TRAINING DATES:
Friday 10/20 from 6-8pm
Saturday 10/21 from 11-4pm
Sunday 10/22 from 11-3pm
11 Hours of Training sessions will be at the Wrentham studio.
Plus, 4 hours of observation and trial teaching. Included in your training is the opportunity to observe two Three and a Half Acres Yoga Trauma Sensitive Yoga Classes either in person or online and co-teach or trial teach another two experiences. Lots of opportunity here! Those who complete their observations and co-teaching have the chance to be invited to teach for Three and a Half Acres Yoga and continue mentorship and advancement to become senior teachers and teacher trainers.
Lara Land is the owner of Lara Land Yoga, Executive Director of Three and a Half Acres Yoga and co-producer of SOULFest yoga festival. She is the author of My Bliss Book and The Essential Guide to Trauma Sensitive Yoga, has a podcast, The Beyond Trauma podcast and has been featured in and contributed to New York Magazine, Huffington Post, Yoga Journal, Apartment Therapy and on Fox5, CBS, NY1 and SiriusRadioXM.
$450 (A digital manual will be provided for all registrants) Payment Plans are available.
Email staff@universalpoweryoga.com with questions or to set up a payment plan.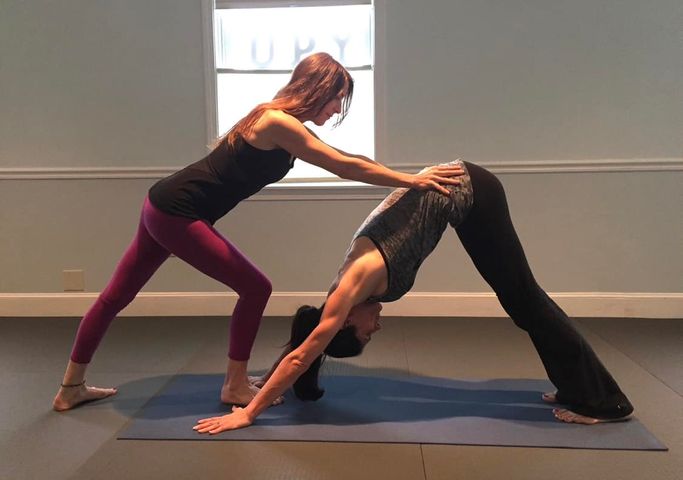 DATES: Saturday 11/4 in Wrentham AND Sunday 11/5 in Norwood
TIMES: 12:30-4:30pm
WHERE: Wrentham & Norwood Studio
PRICE: Early bird price $250 *sign up by 9/30* // Regular price $300
Gale is thrilled to offer her Art of Assisting Workshop at Universal Power Yoga!
How, who, and when to assist was a controversial topic even before the pandemic hit. Now, as we emerge from this time of physical distance, disconnection, it's more important than ever to consider what is appropriate as we pass yogic knowledge to our students in the form of touch and hands on assists.
Enhance your skills as a teacher and join me for an 8 hour assisting immersion where we will explore and discuss current principles of assisting yoga asana. You will have an opportunity to practice assisting many of the poses offered in the classes you attend and/or teach. In this interactive learning forum you will give and receive real time feedback from Gale and the other students to your comfort level.
**Must have a completed 200-hour certificate in order to enroll.
Email staff@universalpoweryoga.com with any questions!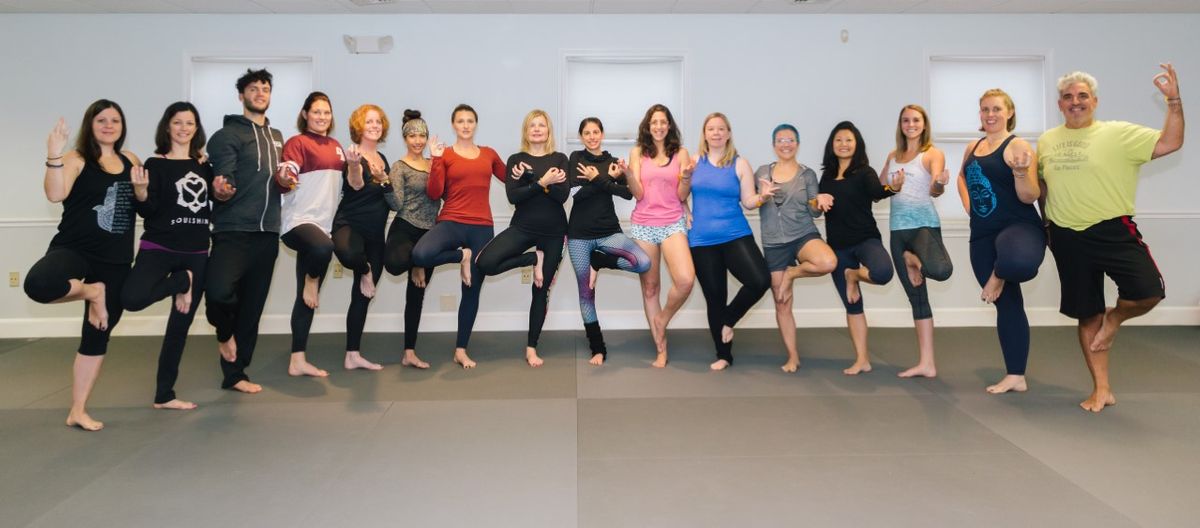 "I'm so glad that I chose UPY for my Teacher Training"
Within the first hour of UPY teacher training, I knew my life was about to change. I could've never imagined the profound impact that this experience would have on me—from a deeper understanding of the practice and myself, to the bonds formed with the teachers and the other trainees. It is hard to put into words how grateful I am for this training.
-Jessica, 200-Hour Teacher Training Graduate
"I loved every second of the program."
The UPY Teacher Training really focused on building confident teachers. I feel prepared for anything in my yoga career! Now I'm teaching yoga at multiple studios and I love it! Sharing yoga with others is so rewarding and fulfilling. I am forever grateful for my teacher training experience."
-Casey, 200-Hour Teacher Training Graduate
Questions about Teacher Training?