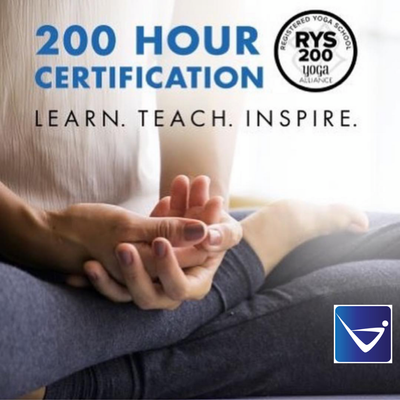 200 Hour Teacher Training - BEGINS MAY 2022
*NOW ENROLLING! THIS TRAINING WILL SELL OUT!*
HYBRID: This training is in person, with the option to join virtually on Zoom!
This training is for anyone who wants to deepen their own practice and learn how to teach yoga to others! You will learn how to deliver the teachings of yoga in a safe, accessible and authentic way. Taking your 200-Hour Teacher Training is a life-changing journey! Discover yourself and yoga within our supportive UPY Teacher Tribe!
Yoga changed your life. Now is your time to take a leap of faith and join us on this incredible journey! Surround yourself with positive, uplifting people and learn the skills to live your yoga on and off the mat! Teacher trainees often say that taking teacher training with UPY has helped them learn the tools for a more grounded, peaceful, joyful life.
FACULTY:
Jen Palmer, E-RYT-500, YACEP
Sue Bonanno, E-RYT-500, YACEP
Gale Giaccobe, E-RYT-500, YACEP
Cheryl Baumhauer, E-RYT-500, YACEP
Mary Walek, CYT-500
Lisa Howard, CYT-500
TOPICS:
Yoga Poses
Breathwork
Meditation
Anatomy & Physiology
History and Styles of Yoga
Philosophy
Yoga Lifestyle
Ethics, Diversity and Inclusion
Teaching Methodology
Professional Development
Business of Yoga
Personal Development
Teaching Skills
TRAINING DATES & TIMES:
WED, MAY 18, 6-9 PM & MAY 21 (11-5 PM)
MONTHLY Sat-Sun Immersions 12:30-7:30 PM
JUNE 4-5, JUNE 11-12, AUG 27-28, SEP 10-11, OCT 15-16, NOV 5-6, NOV 12-13, DEC 2-3-4 GRADUATION!
WEEKLY Thursday nights either 6-9 PM Studio/Online Hybrid or 5:30-8:30 Outside during warm months!
No sessions on July 7, 14 or Aug 4, 18. It's a LIGHT summer schedule because we know people want to enjoy the summer! Also, no sessions on holidays. :)
Makeup Hours: It is important to be present at each session! Of course, we understand that you may need to miss a session and we will help you make it up, if needed.
NEXT STEPS!
1. SIGN UP with a $500 Deposit.
2. Write your 1-2 page typed intention on what yoga means to you and why you want to take this training! Email it to Jen, staff@universalpoweryoga.com, before training starts! This is for us to get to know you a little better! Write from your heart.
PRICING:

Option 1: $500 to save your spot and then pay in full $2400 before training starts (total $2900, save $300)

Option 2: $500 to save your spot and then $300/month for 9 month payment plan (total $3200)
*Other payment plans available upon request*
Questions? Email Jen staff@universalpoweryoga.com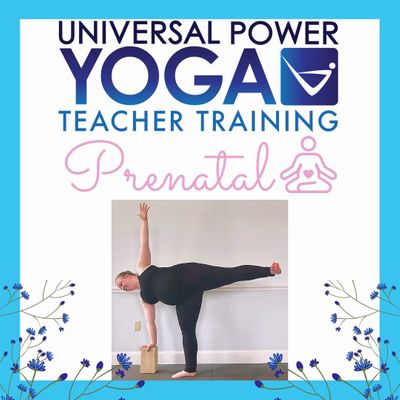 Prenatal Yoga Teacher Training
Join Rachel Smoller (RYT-500) and Mary Walek (CYT-500) for a 20 Hour Prenatal Yoga Teacher Training! At the end of this training, you will be certified to teach a prenatal yoga class, and you will be able to help pregnant women modify confidently in a regular all levels class.
This training is for any 200-Hour or 500-Hour Certified Yoga Teacher (or currently enrolled in 200-Hour training) to become a Certified Prenatal Yoga Teacher!
TRAINING DATES & TIMES:
Fri, 9/23 from 6-9pm
Sat, 9/24 from 11:30-6:30pm
Sun, 9/25 from 12:30-4pm
Sat, 10/1 from 11:30-6:30pm
Sun, 10/2 from 12:30-4pm
All sessions will be offered hybrid with an in-studio option at our Norwood studio as well as virtual on Zoom.
TOPICS INCLUDE:
- Benefits of Prenatal Yoga
- UPY approved prenatal poses and sequences
- How to design a class to help a pregnant woman feel strong and calm during pregnancy
- Contra-indications
- Anatomy and how the practice changes with each trimester
- "Check-ins" at the beginning of class and how to do it effectively
- How to modify a pose or sequence for pregnancy symptoms mentioned during check-ins
- Other elements of a UPY Prenatal Class: themes, breathwork, meditation, assists and essential oils
- Practice teach part of a mock prenatal class
- Observe one prenatal class at UPY to gain experience in a real class with real students
- Teaching skills for studio and virtual classes
- A special segment on how to teach Postnatal, Baby & Me and Toddler & Me classes!
The UPY Prenatal Yoga Program, established in 2015, focuses on building a community where pregnant women feel empowered and supported. Our classes help expecting women achieve a safe, strengthening level of a workout with relaxation at the end of the practice. The classes are designed to reduce discomfort associated with pregnancy and to give pregnant women the tools and techniques to feel strong, confident and prepared for what's to come. Do you want to learn more about teaching prenatal yoga? Now is your chance!
Rachel and Mary have been teaching prenatal yoga consistently for several years at UPY and have built an incredible community of prenatal women. They are passionate about prenatal yoga and can't wait to share their in-depth knowledge and experiences with you!
PRICING:
$450
(Includes manual and opportunity to observe one live prenatal yoga class!)
*Payment Plans available*
Email staff@universalpoweryoga.com with questions or to set up a payment plan.
SIGN UP FOR PRENATAL TEACHER TRAINING!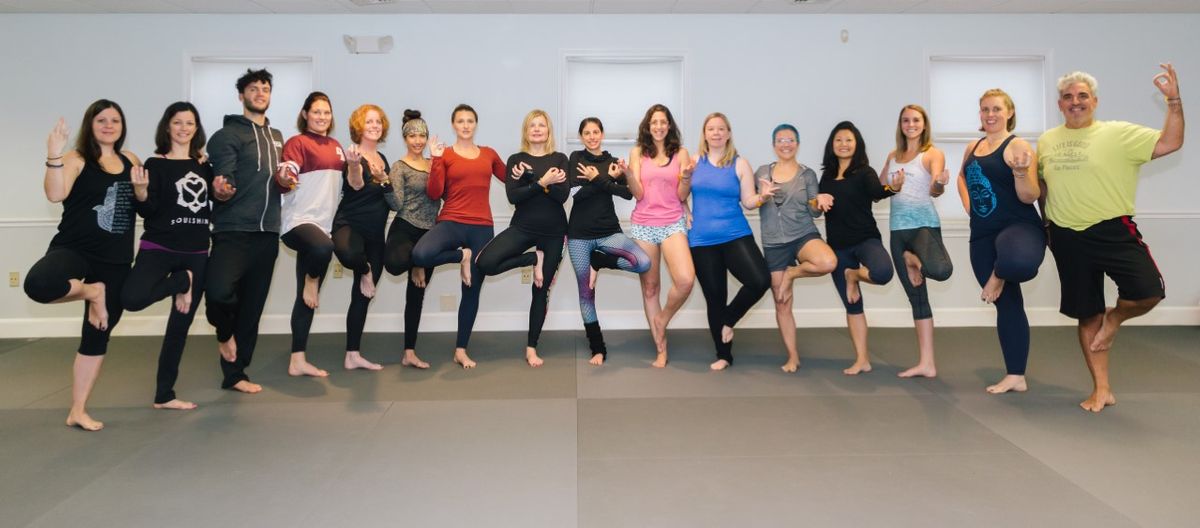 "I'm so glad that I chose UPY for my Teacher Training"
Within the first hour of UPY teacher training, I knew my life was about to change. I could've never imagined the profound impact that this experience would have on me—from a deeper understanding of the practice and myself, to the bonds formed with the teachers and the other trainees. It is hard to put into words how grateful I am for this training.
-Jessica, 200-Hour Teacher Training Graduate
"I loved every second of the program."
The UPY Teacher Training really focused on building confident teachers. I feel prepared for anything in my yoga career! Now I'm teaching yoga at multiple studios and I love it! Sharing yoga with others is so rewarding and fulfilling. I am forever grateful for my teacher training experience."
-Casey, 200-Hour Teacher Training Graduate
Questions about Teacher Training?